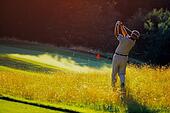 I sit in amazement as I watch a champion golfer win yet another major golf tournament. I have to wonder what it must be like for those other golfers he beat? They are great golfers, the worlds top ranked players, who must know in their hearts, that if the champion is playing, their best hope is to place at number two. Yet they keep competing week after week, doing their best.
I know exactly how they feel, whenever I play golf with my buddies. I'm only assured number four…that is when I'm in a foursome. Ha! Yet I keep coming back. You may ask why keep playing when you know there's a better guy in the game that will probably win? Well, there's the love of the game, the thrill of competition, the occasional great shot, and the satisfaction that comes from knowing you've done your best.
But, there is a deeper reason. I learned it one day on the golf course as a new golfer. I was paired up with an older, more seasoned golfer who played very well. He was a retired military officer who had played some of the finest golf courses around the world during his military career. He sensed my frustration with being number four in our foursome, and gave me a tip I've never forgotten. He said, "Gene, don't worry about me or anybody else. Play your own game."
He taught me that I was frustrated because I was trying to play his game and I couldn't. That frustration was ruining my game. He showed me that it's OK to play my game along side of his game. Yes his drives were longer, and his shots more accurate than mine, but that had nothing to do with my game. If I play my game, I'll play better and in time I'll improve. Since that day my game has improved, but at my own pace. I enjoy my game and challenge myself to succeed.
God has given us our own calling, or game, in life. Sometimes we get caught up trying to compete with others and become frustrated with what we fear is a lack of success. A Pastor with a congregation of 110 members comes home after service and turns on the television to see a young Pastor with a congregation of 10,000! Just like the golf champion's fellow players he thinks, "No matter what I do I'll never be that good." Then depression sets in.
He hurts, as gloomy thoughts of defeat descend like a shroud that covers his dreams for burial.
Stop it! God has given you your own calling, your own game. So play it. You can never win your game by playing somebody else's. You can never get your promotion by moaning about somebody else's. If you have four children in your home daycare business, you can't focus on the daycare down the street with forty children. Be the best with your four and you'll grow with satisfaction.
God has you where you are for a purpose…His. He put you there because you are the best choice for your calling, your game. Does God make mistakes? No. Does He want you to succeed? Yes! You see, God knows the end result of your game and if you were going to fail, He would have put you somewhere else.
Bigger isn't always better, for quality is what counts. I'll refrain from repeating the old saying, "It's not whether you win or lose, but how you play the game." I won't say that. But know that you only have yourself to compete with in your game. You win your game, so play it! When your game is over, you'll be able to say, with the Apostle Paul, "I have fought a good fight, I have finished my course, I have kept the faith" (II Timothy 4:7-8 KJV).